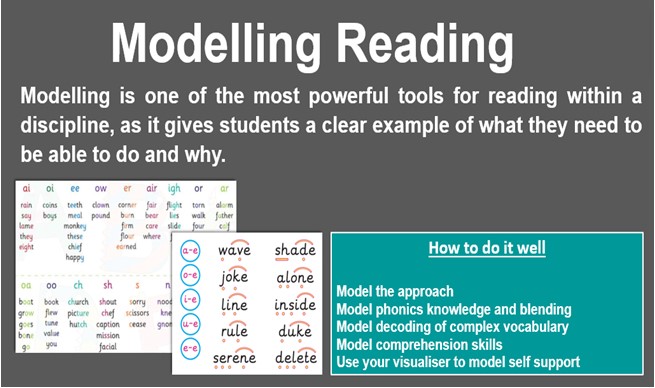 Students identified as being within Stages 1 – 2 will expend a large cognitive load on recognising the words they are reading. They are still learning to read; this therefore disadvantages them when they reading to learn as it leads to cognitive overload. These students receive intensive intervention additional to the curriculum to ensure they progress rapidly to fluency and overcome this barrier.
Students identified as being in Stage 3 receive specialist support within lessons to develop fluency and comprehension strategies.
Students identified as being in Stages 4 – 5 are supported by a curriculum designed to support progressive fluency, with explicit teaching of disciplinary vocabulary and disciplinary approaches to comprehension, and increasingly complex and academic texts sequenced throughout each subject. 
Every subject has identified the vocabulary which students need to learn to progress their knowledge in that subject. Vocabulary acquisition is essential to both reading development and securing learning and is a priority across our curriculum.
Although the reading stages are identified to allow for targeted interventions to be put in place, we recognise that students move forwards and backwards within each stage. Comprehension and disciplinary approaches are explicitly taught to all students, with the view that student developing phonic knowledge and accuracy will still, once caught up, need access to this knowledge.