Safeguarding
For Safeguarding Concerns, Please contact
Mrs Westwood Lead Designated Safeguarding Officer
Mrs McCarthy Deputy Designated Safeguarding Officer
Mrs Matthews Designated Safeguarding Officer, Head Teacher
Contact: 01823664201
Email: [email protected]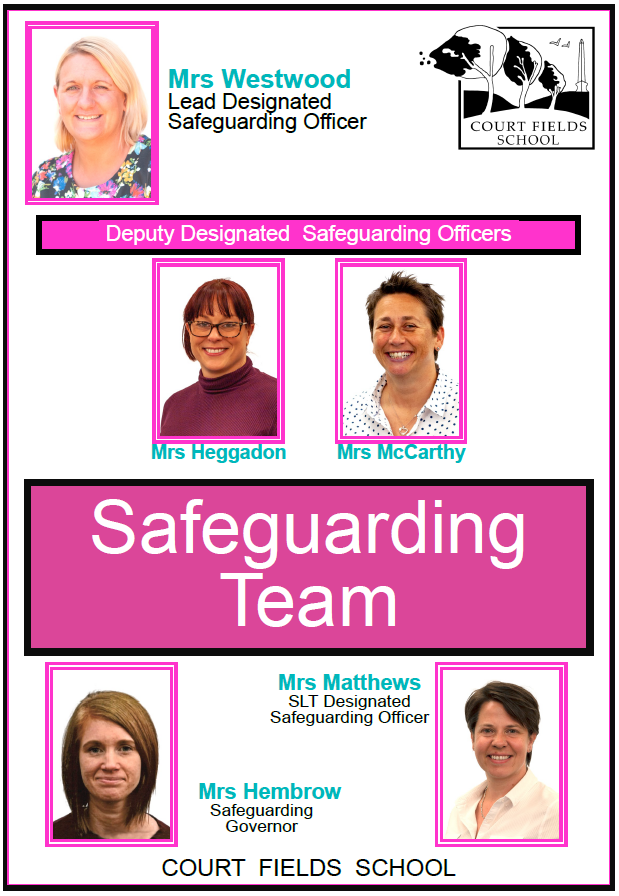 At Court Fields we recognise that keeping our students safe and promoting their well-being is of paramount importance and it scaffolds all we do as a school.
Safeguarding includes issues as diverse as anti-bullying, photos of students, first aid, internet safety and healthy eating.
We keep our school site safe and undergo regular maintenance checks and risk assessments for activities both on and off the school site.
Our curriculum includes opportunities for students to become equipped with the skills they need to live healthy lives and to develop appropriate attitudes to the responsibilities of adult life. These skills are delivered through our assembly programme, PSHE and tutorial scheme as well as role modelled through the school staff on a daily basis.
We recognise that high self-esteem, confidence, supportive friends and clear lines of communication with a trusted adult helps all of our students. We therefore aim to maintain an ethos where our students feel safe and are encouraged to talk and are listened to. Students know that there are adults in the school who they can approach if they are worried or are in difficulty, and all our staff, both teaching and support staff, have up to date safeguarding training.
We have a wide range of support to safeguard students:
Posters around school direct students to different avenues of support for different needs.
Our school nurse is available to discuss medical issues.
Specialist staff can give careers advice and we have access to trained counsellors and Parent Family Support Advisors.
The Attendance Officer and Pastoral Support Assistant monitor the safety of children through checking they are in school.
All of this is underpinned by the Form Tutor and Heads of Year.
Part of our duty as adults is to protect young people from abuse. We have a designated Child Protection Team who liaises with outside agencies and families in such situations. Further details can be found by reading our Safeguarding Policy.
E-Safety
The safety of our students is paramount and a robust E-safety Policy helps educate and protect our students in the ICT environment. Senior Leaders, Network Managers and staff are all trained in e-safety and the acceptable usage policy is signed by all every year. The school's ICT infrastructure is as secure as possible and is not open to misuse or malicious attack. The school meets the SWGfL security and acceptable usage policy. All access is password protected and the internet is filtered and monitored.
For more on E-safety visit student and parents advice page.
Anti-Bullying
We are committed to providing a caring, friendly and safe environment for all of our students so they can learn in a secure atmosphere. Bullying of any kind is unacceptable at Court Fields. If bullying does occur, all students should be able to tell and know that incidents will be dealt with promptly and effectively. Anyone who knows that bullying is happening is expected to tell the staff.
Everyone has a responsibility for safeguarding and promoting the well-being of all students and all staff have a duty of care, to ensure our students are protected from harm.
Bullying hurts. No one deserves to be a victim of bullying. Everybody has the right to be treated with respect. Students who are bullying need to learn different ways of behaving.
Mental Health
SHARE (Schools Health and Resilience in Education
This year Court Fields are working with the SHARE Project.  The SHARE Project have been commissioned to improve the mental health and emotional well-being of our young people in Secondary and Middle* Schools in Somerset. We want to change our culture by breaking down the stigma of mental health issues, and by helping our young  people become more resilient so they are better equipped to understand and manage their emotions and behaviour.
SHARE will do this by involving everyone in schools – teaching professionals, young people and parents, volunteers and support staff –  and provide them the tools and resources to help recognise, manage and sustain good mental health and emotional well-being.
The SHARE Team are recruiting Wellbeing Champions to promote Wellbeing and good Mental Health throughout Court Fields School. Students have already been volunteering, and we are asking any parents, students and staff interested in taking part to get in touch with us by emailing our SHARE Project Worker Liz Peacock on [email protected].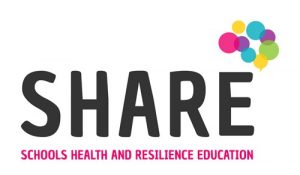 The Wellbeing Champions will undertake 3 hour training with SHARE on aspects including Wellbeing & Self-Care, Listening & Empathy, Communication, Resilience & Sources of Support. The Champions will be expected to meet regularly to review areas of priority that they wish to develop around the school and ensure they are sharing their learning through assemblies, meetings, information boards, activities etc. You will also receive termly supervision from SHARE Project Workers to upskill you and provide you with new resources. If you would like to find out more about the SHARE project please visit www.sharesomerset.co.uk and/or follow their twitter page @somparshare
Useful contact numbers:
URGENT Online Safety Help
If somebody in your school, a pupil, or yourself have experienced something online that is upsetting or worrying that you wish to report, here are some places you can go to get help.
If your issue is a matter of urgency and you are in danger, call 999 immediately and ask for the police.
Somerset Direct: 0300 123 2224
The Local Authority Designated Officer: Anthony Goble – 0300 123 2224
Public Concern at work: 020 7404 6609
Childline: 0800 1111
NSPCC: 0808 800 5000
Policies