16/03/2021
Nothing ever happens in the small town of Littlehaven. Or does it?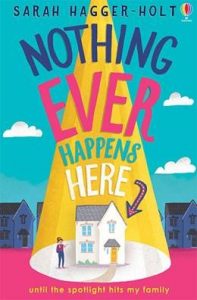 12-year-old Izzy was lacking confidence before she met her best friend, Grace. Now they are inseparable, and she can cope. Settled safely into second year of senior school, she even feels brave enough to audition for the school play. Then her father reveals that he is transgender. Suddenly Izzy's world is wobbling. What will this mean for the family's future? What will people say at school? Will things ever be normal again?
The book sees Izzy, her siblings and her parents gradually acclimatise to the new normal, dealing with a few unfavourable reactions along the way, but also finding support in some unlikely places. True friendship and love win through, and the family finds itself both stronger and prouder.
Where LGBT rights are concerned, the author's own experience, passion and knowledge permeate through every page whilst never preaching. This is a highly readable, touchingly honest, and deeply uplifting book that
09/03/2021
The Book Thief  By Markus Zusak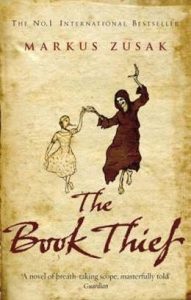 HERE IS A SMALL FACT – YOU ARE GOING TO DIE.
Nazi Germany. The country is holding its breath. Death has never been busier. Liesel, a nine-year-old girl, is living with a foster family on Himmel Street. Her parents have been taken away to a concentration camp. Liesel steals books. This is her story and the story of the inhabitants of her street when the bombs begin to fall.
SOME IMPORTANT INFORMATION – THIS NOVEL IS NARRATED BY DEATH.
It's a small story, about: a girl, an accordionist, some fanatical Germans, a Jewish fist fighter, and quite a lot of thievery.
eBook of the Week  Girl, Boy, Sea By Chris Vick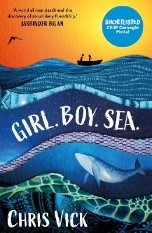 A British boy narrowly survives the sinking of his yacht in a huge storm off the coast of Morocco. After days alone at sea in a tiny rowing boat Bill rescues a girl clinging for her life to a barrel. Aya, from the nomadic Berber tribe, was escaping to Europe when her migrant ship was destroyed in the same storm. Through endless days and star-spangled nights, they drift – mere specks on the vast, empty ocean – weakened by fear, hunger, and burned by the unforgiving sun.
Aya tells Bill about The Arabian Nights, and Shahrazad, who told 1001 stories to save her life. As hope of rescue begins to fade, they find strength in these tales of magic, brave heroes, wily thieves, greedy sultans, and courageous girls. When they land on a desert island, they're surprised to be confronted by a stranger who is not what he seems… and back out on the waves once more in the dark deep, a shadow follows…
03/03/2021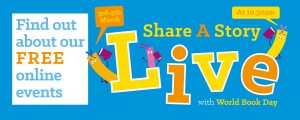 World Book Day
Thursday 3rd March 2021
www.worldbookday.com
Year 7 will be able to choose one of the books when they are back into school. We have 200 copies available!
All students will have a £1 Book Token to go towards the cost of a book or to collect a World Book Day £1 book from your local Book Seller.
All year 7 will also be entering the National Design a Book Token Competition. On your bookmarks, get set, draw!
DESIGN A NATIONAL BOOK TOKEN COMPETITION2021
You, your students and your school could win HUNDREDS of
pounds worth of books with our fantastic National Book Tokens
DESIGN A BOOK TOKEN competition.
One lucky winner's design will be made into a real life National
Book Tokens gift card, to be distributed across bookshops
nationwide in time for Christmas! And there are National Book
Tokens galore to be won too – just imagine all those beautiful new
books for your school's bookshelves.
It's a great home-school activity to set so encourage your pupils to
take part. They simply have to make their mark on the template
and design a brand new National Book Tokens gift card.
A panel of judges will select a winner and runner-up in each of
three age categories: up to 8 years, 9-12 years and 13-16 years
01/03/2021
EBook of the Week Get started with Sora – Install the Sora app or go to sora.com Find Court Fields School then sign in using your school email The Boy Who Fooled the World  By Lisa Thompson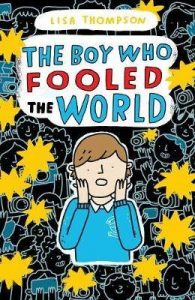 When Cole becomes obsessed with a mysterious painting, he recruits his friend Mason and the cleverest girl in the school, Isla, to help solve its puzzle. But when world-famous artist Marika Loft visits his school and is thoroughly impressed by his artwork, Cole's masterpiece is sold for thousands of pounds. Initially ecstatic, Cole begins to buckle under the pressure of media attention and a deadline to produce another painting. This modern and relevant story is another cracker by the ever-impressive Lisa Thompson, and children will love the excitement of a museum mystery with plenty of surprises and twists. Thompson also writes boldly about complex feelings such as shame and anxiety. This story will be a great companion for children who feel knots in their stomach over the stresses and strains in their home, especially those growing up in poverty.   Book of the Week Bearmouth By Liz Hyder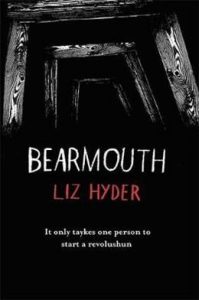 Newt has been living and working in the horrendous conditions of Bearmouth mine from an early age, never emerging on ground level because the pay is so low and it costs money to go up. Life is horribly hard and awful rules must be accepted or the consequences are even worse. Any kind of way out isn't even contemplated until Newt meets Devlin, who starts to ask questions. This unique and breathtaking debut will blow your socks off. Although written in a Victorian style dialect, and after careful research into child labour and Victorian mines, this is no ordinary piece of historical fiction. The voice of Newt is original and haunting and the dystopian world-building within the Victorian mine is masterful. The story is exciting, ambitious and unpredictable: the kind of book to read in one sitting, quite breathless. Liz Hyder is a really exciting new voice in children's literature. Be warned that there is a mention of abuse that may upset younger readers. This, combined with the dialect and new words, make it an upper-level middle grade read into early teen.
27/02/2021
Book of the Week  The Starlight Watchmaker  By Lauren James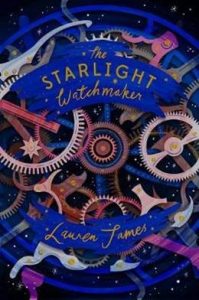 Hugo is an android. Ever since he was abandoned by his aristocratic owner on a planet that houses a boarding academy for the most privileged of all species in the universe, he has managed to scratch out a living making watches. It is a lonely life, and he has almost forgotten what it is to have friends… Until he meets arrogant, charming and aristocratic Dorian – who is not an android. Together, they uncover a shocking plot and set out to discover what other secrets the academy hides. This is a charming and funny story that can be read as a tale of friendship or a light romance. The world has a tinge of steampunk about it, as well as aesthetic echoes of the Guardians of the Galaxy film. The aliens are imaginative and readers will probably recognise the educational system that is being satirised here, where spoiled rich kids are propped up by unseen, illegal workers. However, the satire never overshadows the essential optimism of the story.
08/02/2021
Book of the Week Deeplight  By Frances Hardinge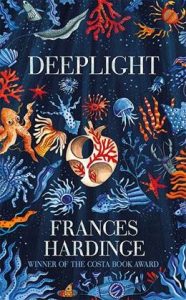 Hark and his best friend Jelt are scavengers on the strange island of Lady's Crave, obsessed with getting their hands on valuable and magical "godware": the physical remains of the terrifying gods that used to dominate their world before they tore each other apart around 30 years ago. But everything changes when Hark gets arrested and sent to the neighbouring island of Nest, a sanctuary for retired priests. Then, after diving into the Undersea, Jelt starts to transform. This breathtaking story is so richly imagined and described that it fills the reader's head with startling visions, particularly the visits to the Undersea and the super weird and scary dead gods, including The Hidden Lady, The Glass Cardinal and Greymantle. Also notable is the wonderful character of Selphin, a girl who cannot hear due to being 'sea-kissed'. Indeed, the whole book has its roots in a letter sent to the author asking if she'd ever thought of including a deaf character in her stories. Selphin is brave and resourceful, and takes a joint hero role with Hark during the second half of the book. This is not an easy read and therefore would be most suitable for readers over 12, although not because of any unsuitable content. Sophisticated or adult readers may see political allegories reflected in the eyes of the bloated, distorted gods and all the myths about them, but the story also works as a thrilling adventure. Truly a multi-layered masterpiece, full of heart and soul – and the world-building is to die for.
01/02/2021
Book of the Week   A Pocketful of Stars  By Aisha Bushby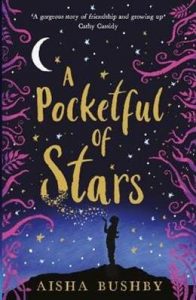 A Pocketful of Stars is a sad but heart-warming tale of finding hope in the past to help survive the present. Thirteen-year-old Safiya is an avid gamer with a big imagination, who feels both misunderstood and distanced from her mum since her parents split up. But when she suddenly falls ill, it's up to Safiya to use her gaming skills of following clues and building stories to uncover the truth about her mum's history and find the things about her that will bind them together forever. A beautifully written and page-turning read, set in London and Kuwait, that deals with changing friendships, family dynamics and learning how to say goodbye. A good read for those interested in stories around world-building, magic and dealing with bereavement.
25/01/2021
Book of the Week  Patina  By Jason Reynolds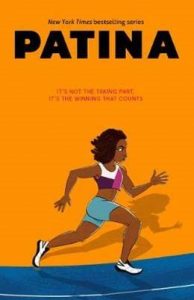 Elite runner Patina is a girl with a lot on her plate and she takes her responsibilities heartbreakingly seriously. After her dad died, her mum developed diabetes so bad that she had to have her legs removed and is so unwell that Patina and her adorable little sister live with her Uncle Tony and his wife Emily, who the girls call Mumly. Patina takes responsibility for everything and everyone – even her school project with the posh girls at her new mainly white school. So how to do you cope when your life is at the limits of what you can realistically do? At the heart of this novel is the message that you need to let yourself rely on other people and work as a team, whether that's on a running team or in real life, and to be proud of yourself and what you do achieve. It is a seriously great moral for all the over-achievers out there. When you've finished reading the book, you'll be as proud of Patina as if you knew her. Jason Reynolds's writing doesn't hit a single bad note here. The dialogue is crisp, the characters are believable, and it's a beautiful, flawless reading experience that will hook reluctant readers (especially those into sports). This is book number two in the Run series (called Track series in the United States) and loosely a sequel to Jason Reynolds'
Ghost
. However, it can easily be read as a standalone text.
22/01/2021
www.literacytrust.org.uk Words for Life website provides parents, children and young people with activities and support to improve their language, literacy and communication skills from home. You can read – The Book of Hope by Katherine Rundell https://literacytrust.org.uk/family-zone/9-12/book-hopes/
18/01/2021
Book of the Week The Girl Who Speaks Bear By Sophie Anderson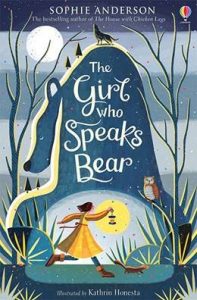 Yanka has always felt like an outsider – found in a bear cave when she was a baby and raised by her foster mother Mamochka, she's always wondered where she came from. But when something very unusual begins to happen to her, it's the push she needs to leave her village on a quest to discover her family, her origins and who she really is. Sophie Anderson's follow-up to The House with Chicken Legs is another wonderful adventure, drawing heavily on Russian folk tales to bring us a gripping tale of dragons, bears and magic. As Yanka's quest unfolds, young readers will not only be captivated by the peril and dangers she faces, but also by the underlying themes of friendship, identity and family. And it's impossible not to root for Yanka, who is growing and learning as she goes, making some valuable discoveries along the way. Marvellously-drawn characters and a timeless style of prose – along with the inclusion of traditional folk tales, all related to Yanka's story – come together to make The Girl Who Speaks Bear almost impossible to put down.
11/01/2021
Book of the Week The Somerset Tsunami by Emma Carroll

Set in deepest Somerset during the 17th century, Fortune Sharpe is not your average girl. Strong-witted and determined, she sets about making a boat with her brother Gem. It might seem like something fun to do, but Fortune has to leave her home in a hurry when she is spotted rowing the boat on the Sabbath. Fortune is sent off to find work disguised as a boy, but luckily, she doesn't have to look far before she discovers that Barrow Hill, the local manor house, has an opportunity for her. Yet Fortune slowly realises that this manor house holds many secrets within its walls. When the other children of the house discover she's not who they thought she was, suspicions are raised. And with King James' witchfinders roaming the West Country, will Fortune – a girl in the wrong place at the wrong time – escape unscathed? This is another glorious example of historical fiction from Emma Carroll: a feisty, female-led adventure that is based on real-life events. It creates a curiosity for history – for the 17th century, the witch trials and the real history of Somerset (the floods of 1607, now considered to have been a tsunami by some), while encouraging girls to be resilient and have faith in themselves.
06/01/2021
Book of the Week Wonder by R.J Palacio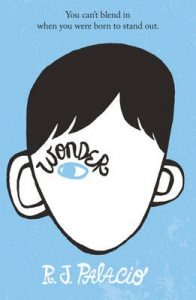 'My name is August. I won't describe what I look like. Whatever you're thinking, it's probably worse.' Auggie wants to be an ordinary ten-year-old. He does ordinary things – eating ice cream, playing on his Xbox. He feels ordinary – inside. But ordinary kids don't make other ordinary kids run away screaming in playgrounds. Ordinary kids aren't stared at wherever they go. Born with a terrible facial abnormality, Auggie has been home-schooled by his parents his whole life. Now, for the first time, he's being sent to a real school – and he's dreading it. All he wants is to be accepted – but can he convince his new classmates that he's just like them, underneath it all? Wonder is a funny, frank, astonishingly moving debut to read in one sitting, pass on to others, and remember long after the final page.
13/07/2020
Book of the Week The Boy in the Striped Pyjamas By John Boyne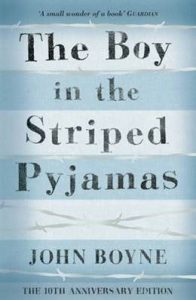 Bruno has a happy life in Berlin, so is shocked when he learns his family are moving to 'Out-With'. One day Bruno is out exploring the bleak surroundings of his new home and befriends a boy of his own age: Shmuel, who lives on the other side of a fence which surrounds a large camp in the grounds. Shmuel and the other inmates of the camp are all under-nourished and wear a uniform of striped pyjamas. Bruno is not sure why they are there or why he is forbidden to mix with them but the boys friendship grows. Their friendship sustains them both but ultimately ends in tragedy when Bruno crawls underneath the fence to help Shmuel search for his missing father. Suitable for readers older than the book's nine-year-old protagonist, the story serves as a compelling and shocking symbol of the futility and horror of the holocaust.
06/07/2020
Book of the Week
The Kite Rider By Geraldine McCaughrean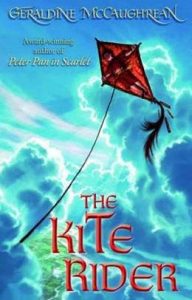 Haoyou's father is dead – his spirit lives among the clouds above Ancient China. Feeling powerless when the man responsible for his father's death demands to marry his mother, Haoyou determines to follow in his father's footsteps and joins a travelling circus. The Jade Circus offers him the chance to escape his enemies and perform: strapped to a kite, he takes to the skies, and soon amazes audiences across the land – including the infamous Kublai Khan himself. But is the circus master leading him into even greater danger? Set in thirteenth century China, this is an outstanding novel from critically-acclaimed author Geraldine McCaughrean. A fascinating and exciting tale exploring greed, loyalty and friendship, it is a highly original story that will capture readers' imaginations.
22/06/2020
Book of the Week
Coram Boy By Jamila Gavin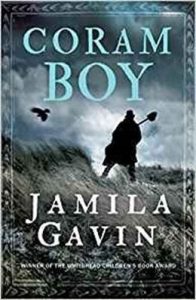 Coram Boy is the story of Toby, saved from an African ship as a child, and Aaron, the illegitimate son of the heir to a great estate. The two boys' lives are linked by the Coram Man, a shady figure who collects abandoned and unwanted children from across the country, supposedly to deliver them to a safe new life at the Coram Hospital in London. In reality, however, the unscrupulous man sells the unfortunate children into slavery, or 'disposes' of them if they are of no use to him. Soon, Toby and Aaron find themselves bound together in an epic journey, fraught with danger and excitement. Rich with historical detail, this enthralling, moving and sometimes deeply distressing read provides an important and thought-provoking insight into 1750s society. Packing a powerful punch, it is a tense tale full of twists and turns, and was a deserving winner of the Whitbread Children's Book Award. Lark by Anthony McGowan Winner of the CILIP Carnegie Medal 2020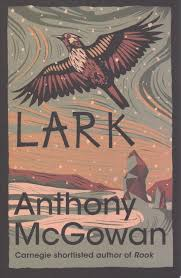 Things are tense at home for Nicky and Kenny. Their mum's coming to visit and it will be the first time they've seen her in years. A lot has changed since they were little and Nicky's not so sure he's ready to see her again. When they head for a trek across the moors to take their minds off everything, a series of unforeseen circumstances leaves the brothers in a vulnerable and very dangerous position. There might even be a chance that this time not everyone will make it home alive… An uncompromising and heartbreaking end to the story of Nicky and Kenny, the beloved brothers of the Carnegie shortlisted Rook, beautifully told in McGowan's gritty realism.
15th June 2020
Generation Hope by Kimberlie Hamilton  
 Meet Generation Hope, young activists around the globe who are acting now to save the world. Generation Hope: You(th) Can Make a Difference introduces 20 global issues and many change-makers, like Greta Thunberg, who are doing something to make the world a better place. Generation Hope looks at everything from climate change and plastic pollution to radical kindness and animal welfare. Facts, stats and practical tips for taking action are laid out in a clear graphic style, with issues explained in a bite-sized, easy-to-read way. Issues covered include: eco-preneurs gender equality and children's rights nature and wildlife conservation hunger and homelessness eco-anxiety and mental health. The young activists profiled include: Greta Thunberg Marley Dias Bana Alabed Mikaila Ulmer Millie Bobby Brown And many more!
10th June 2020
Take a look at National Literacy Trust Family Zone. The Premier League has taken over! Also download 'The Kick Off' by Dan Freedman for free!
8th June 2020
1st June 2020