Generous Donation of a 3D Printer from the League of Friends of Wellington Hospital
A 3D printer bought at the height of the coronavirus pandemic by the League of Friends of Wellington Hospital and used by local businessman Kyle Millett to produce face shields for local health workers has now been donated to Court Fields School.
Kyle was among many people with 3D printers who stepped in to make this essential personal protective item when it was in such short supply.  Hearing about his efforts to help local front line workers, the League agreed to donate £1,000 for materials and to buy an extra 3D printer at a cost of £350 so he could increase production. Kyle worked tirelessly to produce and deliver more than 10,000 shields to local front line workers.
"With our hospital being closed early in the crisis and staff deployed to other hospitals the league were pleased to hear of a way they could still help in supporting NHS and care workers, said Annette Cardwell, chair of the League of Friends.  "When we heard of Kyle's appeal we didn't hesitate in offering our support. He has done a fantastic job.  It was agreed the printer would be the property of the League and when it was no longer required we would donate it to the community.  League Officers were unanimous in deciding Court Fields School should benefit from this and we are very pleased to be handing it over to them."
Court Fields School were thrilled and grateful to receive the printer.  Head of Design Technology, Ian Keitch said: "The school has been developing the Technology curriculum to take into account new production techniques and this will be a great help for students to appreciate the possibilities that 3D printing can offer.  I am sure the students will enjoy using the equipment as their subject knowledge evolves and we look forward to sharing some of their creations with the League over the coming year."
Acting Headteacher Polly Matthews said: "Our thanks go to the League of Friends for their extremely kind donation which has already supported our community's front line workers and health care staff, via the creation of PPE and will now support a new generation of students at Court Fields School."
During the crisis the League has also bought a fridge to enable vaccines to be transported from local GP surgeries to the hospital where child immunisation was able to be continued and provided fruit and veg boxes to the GP surgeries.  They have just ordered an automatic ABPI monitor used as part of the Doppler test to identify vascular issues.  The machine will be shared between the two GP surgeries and should significantly speed up the assessments which had been suspended for a time.  Four extra syringe drivers are also on order for the district nursing team but due to a shortage these are unlikely to arrive before the end of the summer.
Sadly the League had to cancel the summer fete, its main fund-raising event and also the cream tea afternoon which had been planned for mid-July.  Developments over the next few months will decide whether the Christmas coffee morning goes ahead.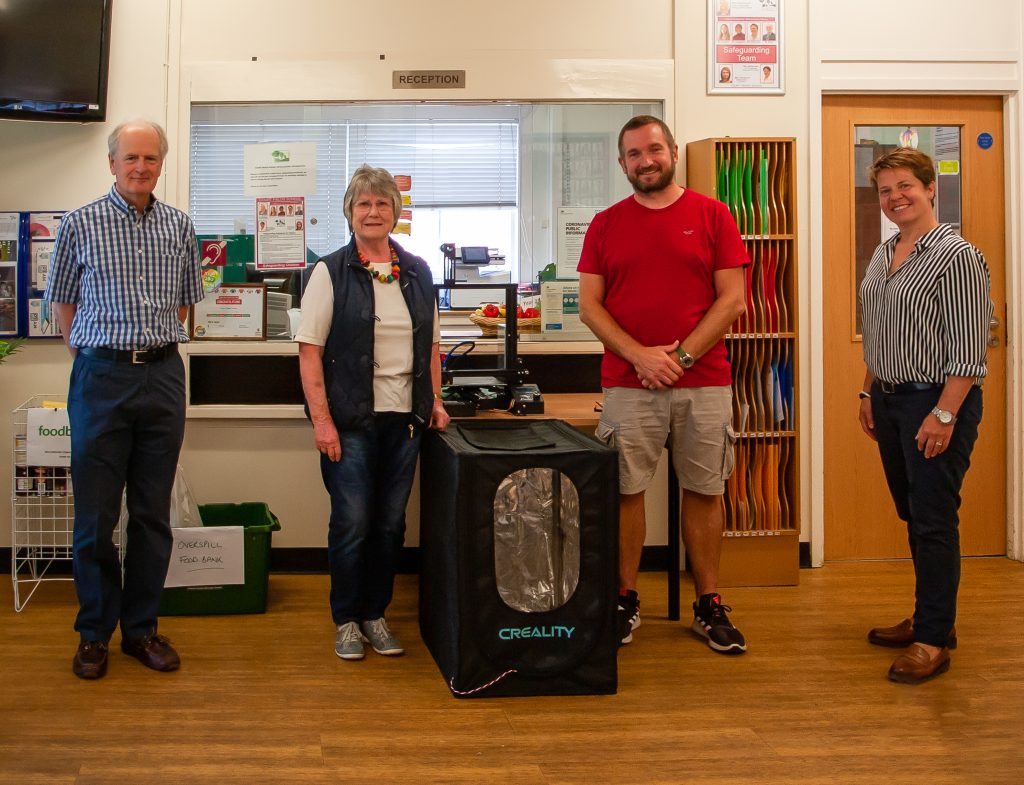 Photo captions:
From the left Brian Blelloch Treasurer to The League of Friends of Wellington Hospital and Chair Annette Cardwell hand over the 3D printer to Court Fields Head of Design Technology Ian Keitch and Acting Headteacher Polly Matthews.