In maths lessons we mark work in a slightly different way than in other subjects.  When we have asked students to complete an exercise we put up answers and students mark their work.  This is fairly traditional, but what we do with the errors is what is important.  We ask students to reflect on the mistake that they have made.  They need to categorise their mistakes as either Process mistakes, Accuracy mistakes or Conceptual mistakes.  This reflection is known as PAC marking.  Often the students will be very clear and confident with the process they need to follow, but they get the answers wrong because of a mistake with their adding up or their timestables.  These are accuracy mistakes.  Process mistakes are where they have not understood the process that they have had to follow, and conceptual is where they have not understood what the question asked them, so worked out something different, for instance finding the circumference rather than the area of a circle.
What can you do to help?
Firstly, you can talk to your child about the kinds of mistakes they are making in their maths lessons.  Are they mostly process, mostly accuracy or mostly conceptual?
If they are Process – the key is to learn the process and the steps that they need to follow.  There are lots of videos online that can help with that.  We often use Hegarty Maths in school, a quick search on YouTube will also find lots of instructional videos that might help.
If they are Accuracy – Mostly this will be timestables that are not learnt sufficiently well, or errors caused by rushing.  There are lots of online resources to help students practice timestables for instance https://www.timestables.co.uk/ has lots of games and activities to practice.
If they are conceptual – encourage your child to underline the key words to make sure they are working out the correct thing.  With more and more of the test papers being worded questions, this functional literacy is becoming more and more important.
As always, if you are concerned about your child's progress in maths, please do contact your child's maths teacher.
In maths we have been flipping the learning experience.  We have asked Year 11 students to work at home before their maths lessons to revise the prior learning that they have done, to read around the topic that we are about to study, so they feel more prepared in the lessons.  These are some examples of the flipped learning that they have produced.
Studies in other schools have shown that flipped learning can have a dramatic impact on maths anxiety, exam stress, and attainment in GCSEs.  We want these things for our students too.  I am sure you will agree that the work they are producing is of a high standard and we celebrate their attitude to their learning.
Court Fields is currently the 2nd school in the UK on the leader board for Mathletics.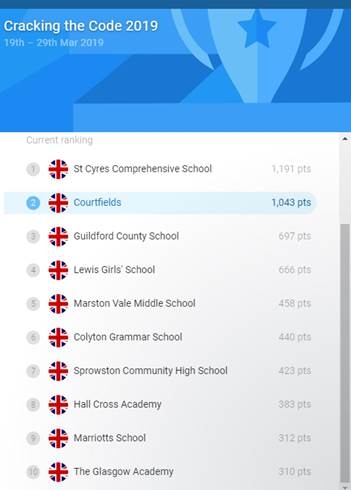 We have organised a short trial of a maths website called matheletics.  As we celebrate world maths day we have created accounts for the all the students in year 7 to 9 for this website.  On World Maths Day (14th March) there is an international competition and Court Fields School could win prizes if our students can get themselves logged in.  For the whole of March we have the use of the site so we are going to have a prize for the top 3 students in each year group based on the progress that they have made in the month of March.  To see what it is all about go to the website uk.mathletics.com.
We are about to start running a times table challenge for all students in years 7 to 10.  We all know how important the times tables are for maths, how they are used in all sorts of different topics, but how often do we actually practice them?
As with any skill, if you don't practice it, you will lose the ability to recall them quickly and effectively.  Having and maintaining fluency with your times tables reduces the load you are placing on your brain when tackling maths problems that use them, freeing up valuable calculation space for other parts of the problem.
To encourage our students to practice these times tables we are launching a new challenge.  Every student who completes each times table at least 5 times between now and the Christmas break will be put into a prize draw.
There will be one prize in each year group.  To complete these times tables they will need to log in to the PiXL maths app on either a phone, tablet or computer.  They can then choose to do them as timed quizzes or in games against other people.
https://timestable.pixl.org.uk/Timestables.html
We hope that they will enjoy these challenges and we look forward to seeing their progress!

We will be running a competition with all year groups between now and Christmas.  We will be awarding prizes to the students in each year group who have spent the most time learning through Hegarty maths.  How do you take part?  Just make sure that you are using Hegarty maths, watching the videos, doing the quizzes and making the most of your learning opportunities!  Happy calculating!
DOZENS of pupils from primary schools in the Wellington area joined the Maths department at Court Fields School in the town for an investigation morning.
The event aimed to help the 54 Year 4 and 5 pupils develop their problem-solving skills and resilience for tackling tougher Maths questions. The pupils faced code-breaking challenges from GCHQ and investigated the magic square found at La Sagrada Familia in Barcelona.
Pupils and staff enjoyed the morning and Court Fields Maths teacher Mr Saunders said he was impressed with the pupils' levels of numeracy and the determination they showed to work together to master Maths.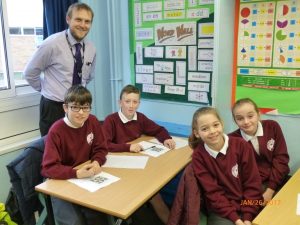 The pupils came from Beech Grove, Wellesley Park, St John's, Rockwell Green, Langford Budville and West Buckland primary schools.
Headteacher Rachael Bennett said: "We work closely with our primary schools throughout the year, with teachers collaborating and sharing best practice and resources to improve the education of all children. Teachers and pupils benefit enormously from working together across our family of schools on great initiatives like this Maths Investigation Day."
Congratulations to the Year 7 team who won the local maths challenge competition held at Taunton School.  Mr Kilshaw was delighted by the performance of the team and the hopes that they can retain their title next year.