30/01/2021
Dear Parents & Carers,
I hope this email finds you well and keeping safe.  After a busy week with a positive Ofsted remote visit, and Year 10 Parents' Evening, I wanted to thank you all for your support and wish you a good weekend.  I attach the Parent Bulletin for this week, and a letter from Somerset County Council regarding Remote Learning.
I've also included below details of additional online tutoring sessions that Year 10 & 11 students can access through the Get Ahead Programme. The next session is Science on 1st February, 6-7pm.  The link for this session is https://tinyurl.com/y9d4tpjl. I'm sure all these sessions will be very useful for our KS4 students.
I hope you have a relaxing weekend if possible. Do take care and keep safe.
Best wishes
Polly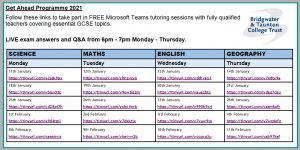 Remote Learning Letter – 26.1.21
Parent Bulletin 1-5 February 2021
25/01/2021
Dear Parents,
Further to my email this afternoon, I do apologise for contacting you twice in one day, but I have received a call from OFSTED to inform me that they will be conducting a remote monitoring visit to Court Fields on Wednesday and Thursday this week. I also apologise for the lateness of this email, however I have been in a Governors' Meeting this evening, but I wanted to let you know about the OFSTED visit straight away.
The visit will be conducted online, and will give us an opportunity to demonstrate our progress over the last 2 years.  The Inspectors will look at our provision for online learning, through conversations with SLT, Governors and the Trust, staff and students, as well as visits to live lessons and work scrutiny.  There will also be an opportunity for parents and carers to feed back to the Inspectors via the Parent View online portal.  I know that as a community we have developed such a positive working relationship, and our school has come such a long way.  I hope that you will be able to take a moment to fill in the Parent View questionnaire using the link here: http://parentview.ofsted.gov.uk/
I would encourage you to use the Parent View link, as it is your chance to pass on your feedback, which will be reviewed by the Inspectors, alongside the feedback from staff, students, Governors and the Trust.  Please note that the questionnaire is limited to the set questions only. If you would like to feed back any comments for us to pass to the OFSTED Inspectors, should we have the opportunity, please email us on the main school email: [email protected]
I will update you further once the remote visit has taken place.  In the meantime, as always, thank you for all your support.  Please be assured we will do our absolute best to represent the very real improvements in our school in so many areas, and to do justice to our journey.
With my very best wishes,
Polly
Polly Matthews
Acting Headteacher
Court Fields School
http://parentview.ofsted.gov.uk
25/01/2021
Dear Parents/Carers
I hope you're well on this chilly Monday, as we start our 4th week of Online Learning.
As you know, we are always very happy to develop our processes and support our students, respond to feedback, and make our school the very best it can be.  Thank you to all the parents who have given such positive and proactive responses, regarding our online learning and live lessons, as well as our provision for vulnerable students and the children of Key Workers in school.   This will continue to help us to develop our provision, for example through developing further opportunities for live feedback from teachers, support for children's wellbeing, and help for families with technology. We have also been reviewing our rewards, to ensure that, at this difficult time for everyone, we reward the effort and progress of all our students, taking into account the various challenges they may be facing.
Over the last 3 weeks we have awarded over 34,000 positive ClassCharts points and made over 1,500 phone calls to praise and encourage our students.  To ensure that we continue to support their hard work, and celebrate success we will from this week be additionally putting the following in place during the Lockdown period to ensure that we reward students for a wider variety of reasons, taking into account effort as well as progress and achievement:
Tutors will make a Positive Phone Call to every member of their Tutor Group over the next 3 weeks.
Celebratory emails to students for positive engagement.
Learning Stars awarded via ClassCharts with a congratulatory email weekly by all teachers.
Thank you cards emailed to parents and children in recognition of their commitment at this difficult time.
Continue Head of Year and SLT calls.
Virtual Badge Week – every teacher nominates 2 students in each of their classes for effort and progress.
Bonus ClassCharts Raffle – 20 Bonus points available to 20 students (randomly chosen) who have submitted work.
We are also reviewing, of course, how we negotiate our usual rewards of badges, certificates and Celebration Evenings, and will ensure that these happen in some form as soon as circumstances allow. The usual awards via ClassCharts of 100 Club, Best Behaviour Club, Good Attendance, Good Behaviour, Students of the Term (Tutor Group and Year Group) have already been allocated, and will be awarded again to cover this half term. We are also in the process of awarding the Attitude to Learning (ATL) points via ClassCharts, in recognition of Good & Outstanding ATL on the students' recent reports.
Thank you as always for your support, which continues to improve our school, and help our students.  We appreciate very much the difficulties that online learning presents and recognise the effort made by all our families.  Please do take care and keep safe.
With our very best wishes,
Polly & Sarah
Polly Matthews                      Sarah Westwood
Acting Headteacher               Assistant Headteacher
Court Fields School               Court Fields School