English at Court Fields School
Meet the team:
The English faculty is made up of 7 members of staff, all with very different areas of interest and expertise but all with a shared love of language, literature and learning. We are passionate about teaching and are lucky enough to have the assistant head of the school who is in charge of teaching and learning in the English faculty, so we benefit from a wealth of knowledge, expertise and enthusiasm. All of us are English specialists with a variety of experiences before we came into teaching. We want our students to be challenged by their study of English, but we are an approachable group of people and we pride ourselves on being there for all of our students, all of the time. If you have any questions about the English faculty please get in contact.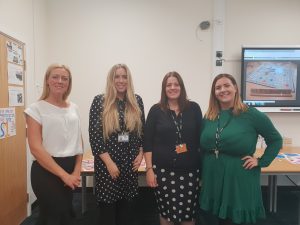 Staff
LM – Miss Martin. Head of English Faculty
RC – Mrs Cummins. English teacher and Assistant head-teacher
TB – Mrs Bruce. 2nd in English
KJ – Miss James. English teacher
JN – Miss Normanton. English teacher
ME – Miss Evans. English teacher
SD – Mrs Dennehy. English teacher
Our Vision:
The English faculty at Court Fields is committed to ensuring all of our students make better than expected progress, that every student comes to English expecting to participate, expecting to be challenged and expecting to succeed. Our students should love English, look forward to their lessons, know they will be supported and be willing to take risks. No student will be left behind.
Our Aims and Values:
The core aims of the English faculty are as follows:
We want all students at Court Fields to be engaged in and excited by the study of English; our subject may not be easy for many of our students, but it should never be dull or boring.
English lessons should stretch and challenge students; not just to read at a high level and write effectively but also to think critically, discuss and listen thoughtfully and express themselves eloquently. Students should also challenge themselves to go further, think harder or learn more. We don't expect anyone to get it right all of the time, but we do expect hard work and a positive learning attitude form all our students.
We are not an exam factory. Assessment is important and students have a right to know where they are and where they are going in measurable terms, but at in English we aim to give students the big picture about what they are studying. We always focus on where English skills can be used in the wider world and how what we are studying fits into the world around us. Novels and other texts are approached from all available angles; the social and historical context, the moral implications of plot, character and storyline, the links which can be drawn with events occurring in the world today, the reactions of various audiences and/or readers. English is about more than just semi colons and the PEE paragraph and it is vital that our students recognise this.
English in its most basic form is essentially a study of words. All of our students can use words. Therefore, it follows that none of our students can possibly be 'bad' at English. In this faculty no one is allowed to give up and no one is allowed to say they 'can't do it.' Not even the teachers.
Our values can be summarised in a few words: Engage. Challenge. Find the big picture. Never give up