As Court Fields students have one hour of Drama a week and have the option to follow the BTEC Performing Arts Acting Pathway in Year 10 and 11. During lessons students explore theatre history, practitioners as well as performance skill. Please see the drama curriculum below for an overview of key stage 3 topics. 
Within lessons we also support students to develop essential life skills such as confidence, team work and creativity. Key stage 3 lessons are practical based with half termly evaluations for students to  reflect on their own and others practice and set targets to improve.
During year 10 and 11 students complete studies of existing work, the roles within  theatre, scripted performances, personal reflection logs and a devising performance and written evaluation.
Drama Club runs every Wednesday lunchtime for year 7-9. The year 11 prefects are leading workshops and rehearsals for students to participate in a performance at Christmas. All new students are welcome to attend in B7 at 1.40pm every Wednesday.
Court Fields School – Drama Curriculum Plan 2018 -2019
Year 7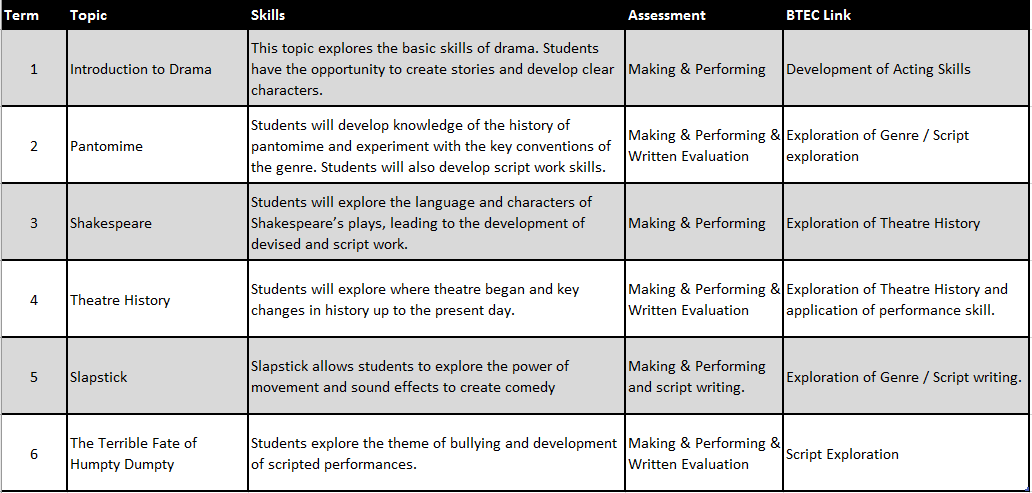 Year 8
Year 9